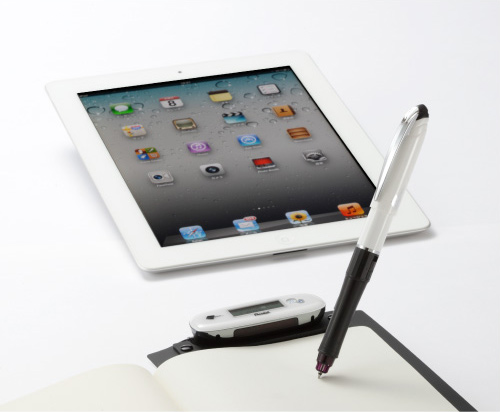 Wireless transmission of handwriting
to your iPhone or iPad

Phe airpenPocket++ lets you send handwritten notes and more to your iPhone, iPad, or iPod Touch, wirelessly—or over a Bluetooth connection to a Mac, Windows PC, or Android device. And it lets you store what you've written or drawn at a much higher resolution than touch panels. The airpenPocket++ even supports automated synchronization of iOS devices using iCloud.
Post to Evernote, Facebook, or Twitter
with just the touch of a button

You can also post your handwritten notes or sketches to Evernote, Facebook, or Twitter as high-resolution graphics. iPhone, iPad, and iPod Touch users can post to Twitter accounts set up via iOS without setting changes.
An analog-to-digital writing tool from
Pentel—the folks who know just
about all there is to know about
writing instruments

People have been using writing instruments for 5,000 years, maybe even longer—so putting pen to paper is a far more intuitive act than trying to write what you want to say by banging it out on a keyboard or trying to thumb it out on one of those tiny mobile keypads! Besides, jotting things down with a pen is said to engage the brain much more extensively. Pentel's new airpens make a digital record if what you write or draw, as you write or draw it! And it's so much more convenient than a digital camera or scanner to make digital copies.